Who's in it?
James McArdle, Mark Edel-Hunt, Tam Williams, Simon Williams, Sam Archer, Savannah Stevenson, Natasha Broomfield and Jack Lowden.
Where did you see it?
Hampstead Theatre (Transfers to the Gielgud Theatre on the 22nd June 2012)
I'm not sure if people have fond memories of the film Chariots of Fire. I think the fondness for it and its success is completely dependent on Vangelis's music as opposed to the whole "two men win races" thing.
Director (and artistic director of Hampstead Theatre) Edward Hall desperately tries to recreate the beach scenes by having his company (elder member exempt) warming up (Really? they couldn't do this in their dressing rooms?) and running around the round stage in what could be a beautiful piece of choreography if they weren't wearing modern day t-shirts and tracksuit bottoms. I won't bore you too much with the plot, the plot is the same as the film version.
Chariots of Fire is more than two men win the athletics, it is about overcoming discrimination, your God or your love of sport etc etc but this stage play becomes about which actor can run around in circles most convincingly. It doesn't make the play exciting and any tension that has been created is then slowed down by watching people run around. The scenes set in Paris 1924 feel anti-climatic and lose meaning because you know all comes good. The actual scripted scenes are nothing special, Mike Bartlett has brought nothing to stage that wasn't on the screen and completely unsubtle (Oooh, they hate him because he's a Jew, do you see?). Bartlett's seems incapable of not treating his audience like idiots, he was just as blatant during the epic
13
at the National Theatre last year. The production of Chariots of Fire isn't about showcasing great actors (I think James McArdle and Jack Lowden are wasted in their roles as Harold Abrahams and Eric Liddell) but about showcasing what the Hampstead Theatre can do.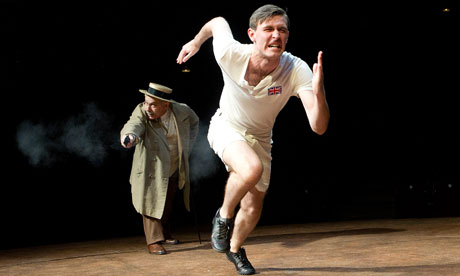 Nicholas Woodeson and James McArdle
I think the move to Gieguld without judging its success at the Hampstead is a major problem (though it has sold out-not dificult when so many seats have been removed for the round staging), will there really be an audience for this because of 2012, will that audience not just go and see the theatrical re-release due this summer? In a season that has seen the stage adaptation of The King's Speech close early because it was released too closely to the film will the same fate not be dealt to Chariots of Fire.