Who's in it
Stella Gonet, Suranne Jones, Catherine McCormack, Lucy Briers, Laura Elphinstone, Lisa Kerr and Olivia Poulet.
Where did you see it?
Trafalgar Studios, Whitehall
Brain Tree goes to the West End, apparently, I can't say Trafalgar Studios feels like it is part of the West End, despite being closer to Trafalgar Square than Westminster the space it occupies feel more London fringe. My role isn't to judge the geography of this theatre, honest.
Top Girls is an odd play. It is split into three acts meaning two awkward intervals in a space where you are forced to witness the set changes, no curtains at the Trafalgar and there's even an awkward mid act scene change where the actors are forced to play set designer.
L-R Stella Gonet, Laura Elphinstone, Olivia Poulet, Lucy Briers, Suranne Jones & Catherine McCormack
It's oddness stems from the first and most famous act where lead character Marlene (Jones) invites five other figures from history; Pope Joan (Briers), Isabella Bird (Gonet), Patient Griselda(Elphinstone) , Dull Gret (Poulet) and Lady Nijo (McCormack) to a meal at a restaurant to celebrate her promotion to MD at an employment agency. It meant to be like the standard girly night out where you sob, get drunk (in whatever order) and moan about all the men who have let you down. It is a great act with great performances but I don't feel it works with the later scenes.
I do wonder if Caryl Churchill wrote it in fear that the rest of the play would seem dated, strangely it doesn't despite being written in 1982, it feels very much like a play that was written after Thatcher had departed and as a feminist it was clear not very much had changed in terms of what women felt they needed to do (or not do) to be successful.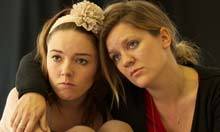 Lisa Kerr & Olivia Poulet
Act2 Scene1 moves to the current day and we see two girls-Angie (Poulet) and Kit (Kerr) Angie is Marlene's niece and lives with her mother, Joyce. I found this scene quite dull actually, it just doesn't fit with the previous scene and none of the characters are remotely likable, perhaps intentionally. I struggled with the pacing of Act 2 altogether, despite being a short play these scenes, especially the job interviews, just seemed to go on and on and on despite having the most to say (women being leapfrogged in promotion by men, the attitudes of men when leapfrogged by a woman etc etc)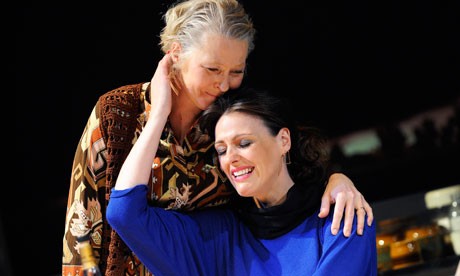 Stella Gonet and Suranne Jones
Act 3 is a flashback to Marlene visiting Angie and Joyce and as a dramatic performance it is great but like so many plays and comedy sketch groups it just ends, no real conclusion. In some ways the play concludes as it goes along but to just blackout and have Jones get up off the settee to take her curtain call and bow just left me feeling a bit empty.
On a positive note all the actresses are fantastic and I could finally see what the fuss about Jones was about, she always seems to play "hard but hot Northern bitches with a heart" which I found a bit tiresome but in this she was still playing a character with more intelligence and more depth than I had seen her display before. Poulet and Kerr have a tough job playing the immature and innocent Angie and Kitt but the performances were convincing, even if the scenes they were in weren't always interesting.
I would recommend seeing it but do try and get very cheap tickets; apparently the good seats are going for

£45!