Alan Simpson and Ray Galton
What was it
: Writers
Ray Galton and Alan Simpson talk
with their biographer
Christopher Stevens
about their career
Where was it
:
The Lyttelton, National Theatre
Firstly, my apologies, I haven't posted for a while due to not attending any theatre or comedy events. August is a quiet month and anything that was on was off the cards due to a tooth infection I got towards the end of August. I'm back now though with what has to be one of my favourite things I have ever attended. I've had a bit of tempestuous relationship with the National after seeing
A Woman Killed with Kindness
and the aborted at the interval (hence lack of review) of
Emperor and Galilean
so I went back with some caution but you don't turn down an evening with Galton and Simpson do you?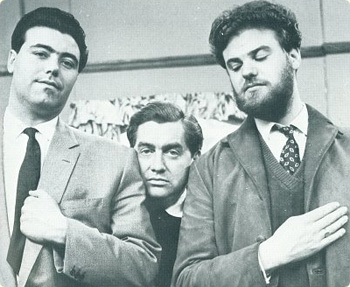 L-R Simpson, Hancock and Galton
I remember as a small child seeing Galton and Simpson on something and being shocked they were still alive. My theory being "They wrote stuff from the olden days so must be old and dead" they weren't and thankfully they still aren't! Galton and Simpson are 81 and 82 respectively now and still incredibly sharp. What I didn't realise when I was questioning their mortality was how obscenely young they were when they started-they were working professionally for the BBC as writers from 1951, when they were in their early twenties. It is not only their writing skill I find amazing but also to have known each other for over 60 years.
How they met is quite a famous story but I never realised how close to death they were in that Sanatorium, both were given six weeks to live as there was no cure for TB. One was miraculously found whilst they were on their deathbeds. Writing comedy together came about from boredom and their disgust with what was on the amateur radio room. They discussed their early career, such as being screwed over by light entertainment performers financially.
L-R Sid James and Tony Hancock
Their big break came in 1952 when they met Hancock. They told how they decided to cast Sid James after stealing the format from another show to create
Hancock's Half Hour. "We needed a crook and Sid James played a crook in about ten films a year"
revealed Simpson (I chuckled at this as one of my favourite afternoon films is
Too Many Crooks,
where James plays a crook) and he mentioned a trip they made to cinema especially to see the credits as they didn't know James' name. They also spoke of James's nerves and reluctance to do radio as it was in front of a studio audience describing his
"big hat and paper up to his face"
and how the paper and hat were dropped lower and gone within a few weeks. Their relationship with Hancock was interesting too. They argued that his finest and most successful work was without James, Bill Kerr and Kenneth Williams, who they were reluctant to cast due to his "funny voice" and who as a group had a habit of cackling during recordings (all loudly), because everyone remembers the Blood Donor but complains that Hancock was at his finest with James. Finding out the Hancock/Galton and Simpson partnership ended because he didn't like the script and didn't have the guts to tell them ("He was a coward in that respect" said Simpson)
They moved on to Comedy Playhouse, it was clear from Galton that this was the project he most enjoyed because they told "You can write what you like" and seemed frustrated when one of the episodes
"The Offer"
was commissioned into a full series, which became
Steptoe and Son.
In fact Galton and Simpson only agreed because they thought Harry H Corbett and Wilfred Brambell would say no. In fact Corbett and Brambell said yes because they were being offered 600 pounds instead of a few shillings (Light Entertainment paid more than drama productions)
L-R Harry H. Corbett & Wilfred Brambell
Christopher Stevens, who was a great interviewer because he just let them talk, took questions from the floor and somebody asked about what David Hemmings role would have been in
Steptoe and Son
would have been had Brambell's Broadway career took off. Simpson told how Brambell announced he was going to Broadway to star in a musical called
Kelly
in 1965. Galton and Simpson thought "Sod ya, then" and looked to David Hemmings (who never knew of their plan and sadly never will) to cast him as Harold's long lost son. Alas
Kelly
closed after one performance and Brambell came back. Someone else asked if the relationship between Harold and Albert came from their own relationship. It was a interesting question that both men laughed off but their was an air of awareness that perhaps they resented but depended on each other as much as the Steptoes did. In truth they related to Harold more than Albert making Albert 70 years old because to them that seemed really old...
If there ever was any resentment it has long gone. They still seem close, perhaps because so many around them when they began have died. Simpson, who now walks with a stick, joked "
He [Galton] helps me up the stairs and I tell him what day it is"
and joking that
"We were only given six weeks to live"
and are still around sixty years later.
My only advice is to see these men whenever you get an opportunity though I suspect (hope!) they will be around for a while yet.